Tees Valley Aerials, TV Aerial installers in Stockton-on-Tees
Tees Valley Aerials was established in 2004 and is a highly recommended local family-run TV aerial installation company in Stockton-on-Tees, Teesside, owned and run by Steve Kenley, we cover the surrounding areas including Norton, Wynyard, Billingham, Yarm, Kirk Leverton, and Middlesbrough.
We provide a professional, friendly, affordable and reliable TV aerial installation service offering fixed price TV aerial and Freesat dish installations for your peace of mind. (please note all fault finding and diagnostic work is chargeable by the hour)
We also supply and install CCTV security systems in the Tees Valley area offering discreet professional installation as standard. For more information on our service and for a fixed price quotation. You can contact me directly on 07932600055.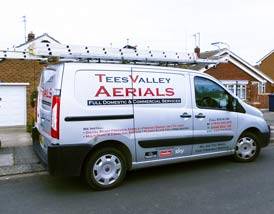 TV Aerial Installation Stockton
We offer a professional TV aerial installation service throughout Teesside. All our TV aerials are suitable for HD digital TV aerial reception. We provide a wide range of services including single point TV aerial systems, extra aerial outlets and loft mounted TV aerials.
TV Aerial installation Stockton
Single point aerial system
(Full digital aerial connected one room / TV.)
M
ulti point aerial systems
(Full digital aerial connected 2+ rooms / TV.)
Digital aerial extensions
(Connect new rooms from existing digital aerial.)
Aerials for Freeview
(Have you got a TV and need it connecting to a digital aerial?)
Aerials for Youview and BT TV
(Do you need an aerial installation for a Youview or BT TV ?)
TV aerial repairs
(Lost your digital channels? broken aerial? snapped aerial cable?)
New
TV set-up
(Do you need help setting up your new TV ?)
TV Set up and Retune Service
(Unable to retune your TV system? We are here to help.)
Satellite Dish

installation Stockton
Single point satellite system
(Satellite / Sky / Freesat connected to one room / TV.)
M
ulti point satellite systems
(Satellite / Sky / Freesat connected to 2+  rooms  / TVs.)
Satellite / Sky extentions
(Connect new rooms to existing satellite dish or SKY dish)
Satellite dishes for Freesat
(Need a new Freesat dish installing? We are here to help)
Satellite dishes for Sky TV (No monthly fee)
(Bought a Sky TV box and need it connecting to a satellite dish?)
Satellite / Sky dish repairs
(Broken satellite dish or sky dish LNB faulty? )
Satellite dish relining
(Do you need your Sky dish relining? We are here to help)
TV Retune & Freesat box set-up Service
(Unable to tune or set up your Freesat TV? We are here to help.)

A word of warning
Some TV aerial companies and the large DIY and electrical shops will lead you to believe you need a large high gain aerial and or TV aerial amplifiers at great expense to yourself when in fact most areas in Cleveland a standard wide-band contractor's TV aerial and a standard TV aerial splitter will work better.
Look out for national aerial companies who were using 0800 numbers, they are now able to use local 01642 numbers in your local phone book, online advertising and even on their own websites trying to lead you to believe they are local TV aerial installers but they don't know our area and will quote you a higher price so they can take a cut and pass your work onto a local cowboy installer who can't get his own work.
Also, look out for TV aerial firms advertising aerials at silly cheap prices in the local newspapers with 10-year guarantees, they carry out very poor TV aerial installs using cheap parts with very poor workmanship and when it all goes wrong they will not come back to repair your TV aerial.
If you're having poor Freeview TV signals, bad digital TV reception, TV aerial problems like pixelation, broken sound, blocky TV picture or missing some TV channels call me on 07932 600 055 for help & free over the phone advice.
Useful Information
In 2012 the Redcar & Cleveland area went digital, meaning the old analogue TV signal was turned off, leaving the only way of getting your TV up and running again was to either buy a Freeview set-top box, You View box (BT vision)or TV with built-in Freeview / Freesat or get Sky or Virgin cable TV.
If you decided to go over to Freeview,  You View BT Vision then you may need your aerial upgrading from the old banded TV aerial to a wideband aerial that most people call a digital aerial.
So if you are missing TV channels or your Freeview picture is freezing or blocking then it's very likely that the fault is with your aerial.
Opening Times
Monday-Friday 9 AM till 5 PM
Closed Saturday & Sundays
Contact Information
Steve Kenley
07932 600055
aerials@tv-a.co.uk
Are you missing TV channels after the Bilsdale Mast Fire?
You may need to retune your TV, If this does not work it is likely a new aerial will solve your problems. Give me a call and I will let you know if I can help and give you a free quote over the phone.